Summary of FOC's 2022 Accomplishments
In April 2022, Friends of Chippokes was named Virginia State Parks Volunteeer Friends Group of the Year for 2021.
Took necessary action to revise and republish applicable FOC publications and Chippokes rack card to remove "Plantation" in the name to conform with Chippokes State Park.
Updated and republished the Chippokes Welcome Guide.
Revised and updated FOC website www.Chippokes.com, and added the FOC Application Form.
Designed and distributed FOC Volunteer Opportunities Flyer.
Funded $10,000 cost of refinishing the floor in the newly renovated Conference Shelter.
Provided new FOC polo shirts with embossed logo for FOC members.
Began accepting Charge Cards in FOC Gift Shop.
Media Promotional Initiatives:
a. Contracted with WMBG FM 93.5 to run 6-month ads promoting Chippokes State Park.
b. Publicized park events, photos, and articles in local newspapers.
Thanks to Firewood Workday volunteers, donations from firewood continue to be a major source of FOC income.
Thanks to Garden Workday volunteers, the Mansion flower beds, planters, and Stewart's gravesite are looking better than ever.
Provided volunteer services for the following annual FOC/Park events: Easter Egg Hunt, Garden Tea, Harvest Festival, Wreath Making Workshop, and Holiday Open House.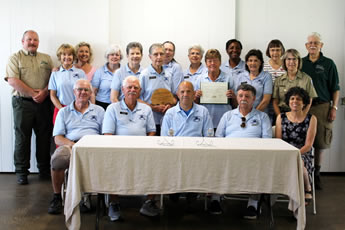 FOC's Goals and Objectives for 2023
Determine if Friends of Chippokes can provide a source of drinking water in the mansion area for Park guests.
Invite Melissa Baker, State Parks Director, to visit Chippokes State Park.
Consider landscaping options to complement the Conference Shelter.
Seek to increase FOC membership as a top priority.





Our Mission -"Here To Serve"
The mission of the Friends of Chippokes State Park is to identify and promote activities to enhance the cultural and natural resources of Chippokes State Park.
In furtherance of our mission, the Friends of Chippokes shall actively encourage donations and fund-raising to support the Park.
Our Activities and Programs
The knowledgeable and friendly volunteer staff at Chippokes love our park and are committed to giving all our guests a memorable and outstanding outdoor experience, rich in natural beauty and cultural history.
The Friends of Chippokes develop, staff, and finance a number of programs and activities for our guests all year 'round.
The Friends of Chippokes (FOC) operate the Gift Shop located in the Packard garage (c. 1837). Money raised in the Gift Shop and other activities is used to provide for park needs and to enrich the Chippokes experience for our guests. For example, the Friends provided the funds to purchase the TVs and DVD players in the guest cabins.
The Friends support the Park staff with the campfire programs, Junior Rangers, and outreach to Surry Elementary School children.
The Friends raise money to fund specific park needs and programs, mainly through donations, Gift Shop, and firewood donations.
To see current and future Park activities, take a look at our Chippokes calendar and the DCR Calendar.
Helping The Friends
Volunteers Capture the charm of Chippokes! Come join with us. Your time will be well spent, and we will provide training if needed.
A few of the many Volunteer opportunities that abound at Chippokes:
Provide assistance during park events
Help maintain grounds, garden, and trails
Mansion docents
Work in the gift shop
Assist with fossil walks
Help with firewood workdays
Volunteer hours earn awards such as:
Lifetime pass to all Virginia State Parks
Discounted camping and cabin benefits
Job experience when applying for employment
You might have special skills or talents that will allow us to expand our programs. TALK TO US!

For general information on volunteering, contact the Park Volunteer Coordinator, at 757-294-3625.
Membership
You do not have to be a member of the Friends of Chippokes in order to be a volunteer. However, by becoming a member of FOC, you will be better informed and will become an integral part of Park operations. So, if you want to join, you are quite welcome!
Annual dues are $15 individual; $25 family, and are renewed at the end of January.
To join, print and fill out this membership application, make check payable to "Friends of Chippokes," and send to: Friends of Chippokes State Park, 695 Chippokes Park Road, Surry, VA 23883.
Meetings
Regularly scheduled meetings are the second Saturday in the month, at 10:00AM, in the Jones-Stewart Mansion conference room. Prospective members are encouraged to come to a meeting and get acquainted.
Organization
Officers include: President, Vice-President, Secretary, Treasurer, and three directors. All are elected to serve two-year terms, and can be reelected.
Our Officers
President - Barbara Lindley email
Vice President - Judith Pysher
Secretary - Helen Stahl
Treasurers - Phil Redmond
Assistant Treasurer - Pat Pauley
Directors - Tom Witowski, Ed Wrightson, and Barbara Rucker
Friends of Chippokes was incorporated in 1999 by a group of dedicated volunteers to carry out Our Mission.

FOC is a 50lc(3) non-profit organization. Donations are tax deductible and gratefully received.
For more information e-mail us at president@chippokes.com.